I never once understood those people who love living in the past.
Personally, I find it almost masochistic, reliving those days one cannot get back, never mind those days where too many mistakes were made. It's a bleak viewpoint, I realize. It seems ever more evident though in the public sphere—the old, rich, white guys in charge of everything who are longing for us to get back to the good, ol' days when women weren't uppity, brown people were shunned, and white sons were molded into fine, American-made dirtbags. Their nostalgia is much broader in scope (and effects), of course, but I picture some of them spending a lot of that time reliving their high school days as virtual kings of the school and then inserting that sort of legacy into their politics, an outdated concept of "leadership."
I suppose that sort of nostalgia has its advantages for some.
Reliving high school days though, what is that about?
High school, for me, was like living in-between purgatory and hell, whatever that particular space is. We were all waiting to move on in that sort of limbo-to-adulthood. In the meantime, there were a few friends around, but there were also far too many groups of unpleasant people to contend with. It's expected, sure. After all, teenagers are tribal. I don't need reminders of that, those tribes. As painful as adult life is, I'd rather suffer a little money woe, a little work-related chaos, a little home repair frustration than ever relive my days in high school.
Social media has been that rickety bridge linking those of us who'd rather live in the present to those who are proudly stuck in their teenaged glory days. I thought it would be somewhat different with military brats who were in high schools overseas. Alas, social media, that bridge specifically designed with nostalgia in mind, wants us all to find each other from all over the earth and relive all of that crap over again. Reunion photos and commentary appear on our feeds, visual proof the adage "The more things change, the more they stay the same" is all too true.
Granted, some who are reliving the past may be seeking redemption. For instance, about a decade ago, I had an old heartbreak (of sorts) email me a lengthy apology for how he behaved towards me during our junior year. Honestly, I'd not cared much, but then again, I've been on the other side of the bridge alongside everyone else who doesn't want to relive the past. For me, it's been hard enough to get away from my much more recent past with its middle-aged issues, and I'm trying to move forward from all of that.
Anyway, I don't mean to ramble. I was inspired to write this entry because I've a good acquaintance from my high school days who's survived a rocky end of a marriage and has since been swept off her feet by a guy she reconnected with at the last high school reunion. Naturally, I only know these things because of that "bridge." It's a pleasant enough thought, sure, that very American, retro fairytale of hooking up with a high school sweetheart. I know of several couples who've remained in the past together like that because it was comfortable for them, like a worn, homey blanket that's been washed so many times, it's as soft as it is raggedy.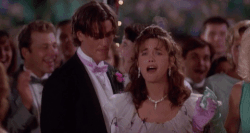 But "homeboy" though, he seems much more stuck in the past than she is, and from what I've seen on his profile page (of course I looked), there's a certain, uncomfortable possessiveness about his need for nostalgia, like he's not merely clung to it; he's clamped on it hard. To be honest, I don't remember him, and I doubt he remembers me, but I've a friend who does remember him and further established my leeriness about people who hold on to the past too much, like it's an addiction for them. I sense there's something empty there in them, as if they're wanting to hide the present altogether by covering it up with the past.
It doesn't help matters that when single, they all date each other and then date their friends' exes and then date those exes' exes, around and around, like it's really high school all over again. Clinging to nostalgia from that angle seems a teensy bit incestuous after awhile.
Just. Gross.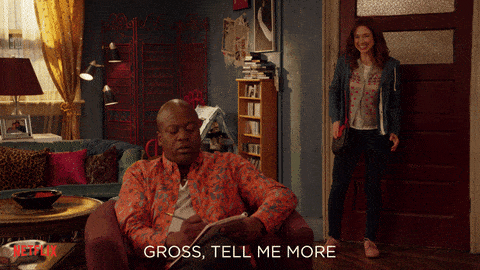 Save